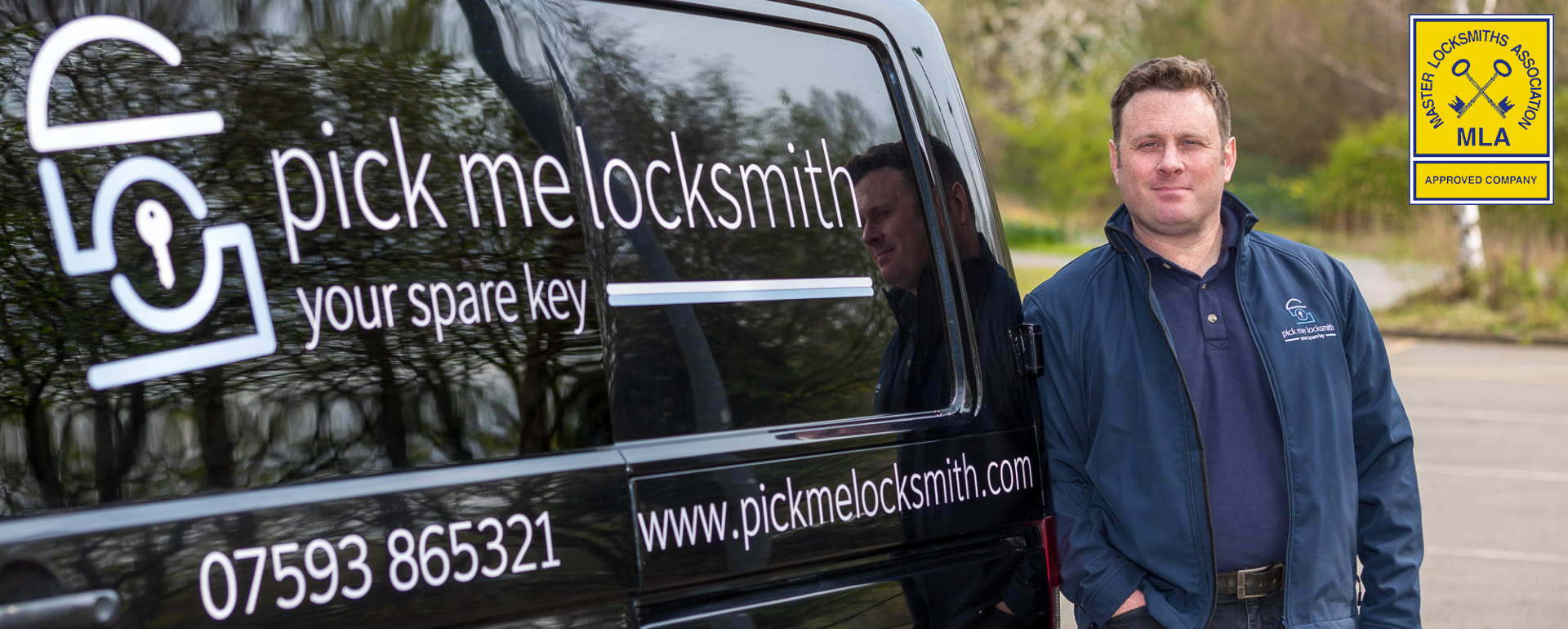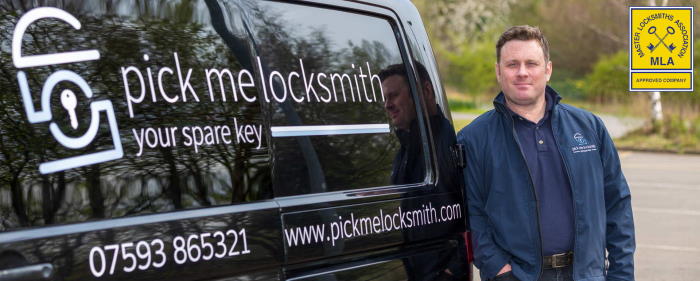 The MLA approved locksmith Derby trusts

The Locksmith Derby with approved Master Locksmith Association Company recognition.
When you want to protect your home or your business then Pick Me Locksmith Derby is your safe choice.
Locked out, replacement locks needed or would like a free home security check?
Call Pick Me Locksmith Derby, with MLA approval you know you will get trusted service, fair pricing and qualified installation every time.
Pick Me Locksmith (Master Locksmith Approved) are Your Spare Key!

uPVC DOORS OPENED AND REPAIRED
UPVC door failures, lock repairs, replacements.
Anti snap Lock upgrades, HIGH security
Secure your home and businesses with 3* locks, diamond standard.
LOCKED OUT! FAST, NON DESTRUCTIVE ENTRY
Quick response to locked out and faulty lock entry points.
COMMERCIAL LOCKSMITHS
Industrial and Retail premises covered. Keeping your business operating.
BURGLAR ALARMS.
Home alarms, business alarms, early warning and access limitation
SMART SECURITY – SMART LOCKS – KEY-LESS ENTRY
Control your home and business security via you mobile phone, from smart alarms, CCTV, door access and key-less entry points.
Pick Me Locksmith have the technology and the team to add some real Smart security solutions where you need them most.
Mark Santi - Your Derby Master Emergency Locksmith

Contact Mark on Derby 01332 492 022  or Mobile 07593 865 321

Emergency locksmith service for Derby.
Emergencies are responded to with urgency and professionalism.
We can open standard mortice and cylinder locks, modern UPVC window and door locks or garage doors often without drilling or damage.
Whether it's lost keys, a broken lock or simply a key snapped in the lock;
If you lock yourself out of your home or business or need help following a break in then you need Pick Me Locksmith Ltd's emergency call out service.
Pick Me Locksmith Ltd really is "Your spare key"
Mark Santi - Your Derby Master Locksmith

Contact Mark on Derby 01332 492 022  or Mobile 07593 865 321

UPVC doors are very robust and hard wearing but over time they can become difficult to operate or even fail completely.
You will be pleased to know that this doesn't have to mean you need a new door. Minor adjustments can be made, and mechanisms or hinges can be replaced, returning your door to its former glory at a fraction of the cost of replacing it.
If you get your door adjusted as soon as you notice any difficulty in using it, then you have the best chance to avoid a bigger problem and a larger bill later.
Here is an example of the new patio lock we would fit to your Derby home. Professional, Secure, Fuss Free!
Pick Me Locksmith Ltd really is "Your spare key"
Mark Santi - Your Derby Master Locksmith

We install good quality locks and for those who require it we fit British standard locks and handles.
At Pick Me Locksmith in Derby we suggest there are three main reasons you should replace your lock.
Firstly if you have recently moved home or a change in circumstances mean you don't know who has a key to your home or business,
Secondly and the most obvious is when a lock doesn't work and
Finally,  we suggest is when a lock is not up to the standard you require.
All Pick Me locksmith's carry a good range of locks Mechanisms and handles to enable us to provide a quick solution.
Mark Santi - Your Derby Master Locksmith

An alarm system fitted professionally to your home or business can be a highly effective deterrent.
Statistically,  60% of burglars say they would be discouraged from breaking into your home if they knew the owners had an alarm installed according to recent statistics.
A fitted alarm gives you peace of mind when you are at work, on holiday or your family is asleep in bed.
A great way to protect your possessions and your home. you might even save money on home insurance!
As an ERA Approved partner we supply and fit ERA alarm systems.
Whether you need an alarm fitted in your Derby  home or business premises we are happy to give you a quote and improve your security.
Contact Mark on Derby 01332 492 022  or Mobile 07593 865 321
Mark Santi - Your Derby Master Locksmith

From a single camera to a network of cameras around your home or business in Derby, with remote viewing over the internet, we can provide the solution.
By using specialist equipment and software we can provide a system perfectly tailored to fit your needs and your budget.
We install CCTV to homes and business throughout the wider Derby area.
Our customers in Derby that have had CCTV installed tell us how much peace of mind they get from the added security and visibility.
Give us a call today to arrange visit for a no obligation, friendly quote.
Contact Mark on Derby 01332 492 022  or Mobile 07593 865 321
Mark Santi - Your Derby Master Locksmith

The natural progression from mechanical locks is to replace the physical key with an electronic entry system.
With options to suit flats, homes & business premises in Derby such as a code, a card, a fob or can even be your own personal biometric information.
Electronic access control systems have an enormous advantage over mechanical systems where each code, fob or biometric signature is unique and can be tailored to suit the needs of any home or business in Derby.
We can supply and fit to your specifications and also provide an emergency entry & repair srevice.
Contact Mark on Derby 01332 492 022  or Mobile 07593 865 321
WORRIED ABOUT YOUR HOME SECURITY?
ASK OUR EXPERT MARK.
PICK ME LOCKSMITHS IN DERBY
KEEPING YOUR HOME SAFE & YOU INFORMED
How Pick Me Locksmiths in Derby Can Help
Most people associate Derby locksmiths with being locked out and at Pick Me Locksmiths in Derby we pride ourselves in being able to provide a fast, responsive, service to all door and window lock related issues. Our locksmiths will always check and adjust doors as part of a lock replacement or repair, this helps prevent the same problem reoccurring and ensures we deliver a high standard of service to our customers. We can also provide advice on other security solutions too.
Locked Out? Fast, Professional Emergency Locksmith Services
Mark is a qualified Master locksmith with a comprehensive level of technical knowledge in locks and locking mechanisms. When you call, you can expect a no nonsense response to solving your problem. Every call for an emergency locksmith in Derby is dealt with the utmost urgency because if you are locked out you will need to be back in quickly so you can get on with your day.
Flexible and Friendly – The "Locksmith Near Me"
When you call Pick Me Locksmith Ltd you can expect a customer focused solution tailored to suit your needs. It is highly likely your locks won't break between 9 and 5 which is why Pick Me Locksmith Ltd provide a 24 hour emergency service. When you are looking for a "Locksmith Near Me, we are here for you!
Pick Me Locksmith Ltd is a genuine local locksmith service.  We do not use call centres. As a member of the Which Trusted Trader scheme we follow a strict work ethic. Call Pick Me Locksmith Ltd for an honest and reasonably priced locksmith in Derby and surrounding areas.
Professional and Discrete
We understand that our customers call us to deal with delicate situations and we approach our task with this in mind. You can expect us to arrive swiftly and quietly and get the job done. Customers will be fully briefed on what we are doing and why, with no hard sell. You can be confident of our high standards of workmanship and integrity.
Our Lock Range
Being a small business, reputation is vital to Pick Me Locksmith Ltd. Mark's experience has taught him the importance of home security, so we only supply high quality locks and UPVC locking mechanisms.
Some of the brands supplied are:
LEAVING YOU HAPPY AND SECURE
We work hard to gain entry in a non destructive way,
saving you time, money and minimising stress!
The Trusted Derby Locksmiths